When Julia Kasdorf traveled to China for SST in 1982, she recorded her experience with what would soon be a nationally acclaimed gift: poetry.
While there, she tried to capture a sense of the place by writing poems, much the same way she took photographs. Many of her poems, she said, refer to plants, one of her abiding interests, or history.
"In the fall of 1982, when my group was there, the Cultural Revolution was still very present in peoples' experience," Kasdorf said. "[T]he class I taught with Janet Lind at Sichuan Teachers College was among the last group of students who had had their education disrupted by that event, so we had students who were 16 and one who was 46 years old, all in one senior class of students studying to be English teachers."
Many of her poems were informed by that teaching work. The following two are from her book, Moss Lotus, published by Goshen College's PinchPenny Press in the 1980s.
'Tangerine Woman,' "is a portrait of a vendor who sat at the college gates selling nuts in cones folded of homework papers," Kasdorf said. "She had had her feet bound before the establishment of the Peoples Republic of China in 1936, when such practices were outlawed."
In 'Underground,' she imagines "the purge of ornamental plants, which were outlawed during the Cultural Revolution because they were seen as vestiges of the bourgeois era."
Kasdorf is an award-winning American poet; her three collections of poetry, most recently Poetry in America, have been awarded a 2009 NEA fellowship and a Pushcart Prize, among other honors.
---
Tangerine Woman
Every day she squats, knotted between baskets
of dusty, red peanuts and sunflower seeds.
Her gray hair is cropped at the neck;
a faded, black corduroy smock
is fastened with loops and tiny string fists.
Her sleeves are too long; her front teeth are gone.
Today, a tray of tangerines at her feet,
the first of the season for sure —
so small, and their tight green skins
lack even a faint hint of yellow.
She pulls back the peel
with a gnarled, brown nail
and lets it fall in her lap.
A slice for me that pale,
sharply tart, light as morning sun
caught before the ripe rays of noon.
A premature section, seedless,
smooth-skinned and slight as a petal.
I scoop some fruit in her hand-held scale
and stoop to steal a look
at her tiny, black-bound feet.
Underground
During those years, petals were purged from their stems.
At first, greenhouse panes shattered
on chrysanthemum's upturned buds;
clay pots crushed into shards.
Flowers in public squares
tilled under to grow turnips,
radishes, cabbages for the masses.
Seeds grew old and impotent in their packs;
bulbs shriveled and died in dark cellars.
Bonsais hunched under tea tables
in hushed, city apartments
while peasants risked only a ragged row
of marigolds along the mud walls of home.
Perhaps the perennials persisted,
their roots ignorant of the law —
stems, straining up through earth
to be trampled — or secretly saved,
petals pressed in books like isinglass icons.
---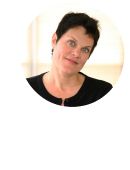 Julia Spicher Kasdorf is the editor and author of a number of books, including three collections in the Pitt Poetry Series, most recently, Poetry in America. A professor of English and women's studies at Penn State, she is currently working on a documentary poetry project about shale gas drilling in northern and southwestern Pennsylvania.