During the study part of the term, one of the women in the unit who was living with a family with younger girls, told us about a "secret" language that her SST sisters had taught her. This language in Spanish, at least in Costa Rica, is sort of like pig latin or goose latin in English. Unlike pig latin, where the added syllable is after the word (ig-pay atin-lay) and more like goose latin where the added syllable is added to each syllable but unlike goose latin, where the added syllable is added in the middle of the syllable (goolafoose lalafa-tilafin [pronounced "tuh-la-fun)]), in cá (I'm not sure if this is the correct term), the added syllable (ca) is added before the syllable; for instance, San José would be "Casán Cajó-casé".
Now, I had a very difficult time understanding "normal" Spanish; but when I heard cá being spoken, my comprehension was absolutely zero. And I did hear it spoken during my service part of the trimester when I was at Roblealto Bible Home, a children's home.
One day two girls, one about 20, who had grown up at Roblealto but stayed on as a maid after turning 18 and graduating, and the other a 16-year-old, and I took a walk down to the river, about 10 minutes away. On this trek, they started speaking cá. Knowing only the principle behind the language, I knew what they were doing but had no idea what they were saying.
As they conversed, they would occasionally look at me as if to ask if I understood what they were saying, and I would give them a look of incomprehension. After a few minutes of this "private" conversation and their looking at me wondering if I was understanding what they were saying, I got the impression that they were saying things that they would normally not say in mixed company.
As they continued their conversation and continued to give me this "look," I was pretty sure that were saying things that they would not be caught dead saying in front of a guy, and after about ten or fifteen minutes of this, and after another one of their "looks" toward me, I gave them an astonished look and said, "¿Cavér-cadád?"
Oh, gosh! The look of absolute horror on their faces, when they thought I had understood everything they'd said, told me that had indeed been saying "unspeakable-in-mixed-company" things, although I had understood absolutely nothing of what they said.
---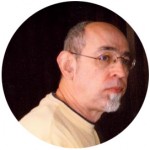 Steven Johns '81 is a former graphic designer at GC and author of two Pinchpenny Press chapbooks of poetry. He is now retired, having worked as graphic designer and general laborer at several print shops and factories. He still works part-time doing the bulletins for Benton Mennonite Church and lives in Goshen. He did SST in Costa Rica during the winter trimester of 1978.