The year was 1987. My aunt Kristina, then 20 years old, was with Goshen College's fourth SST group to China. The group was stationed in Chengdu, Sichuan Province, living in dorms and attending classes at Sichuan University.
China was still nine years fresh from "Reform and Opening," and the long, slow crawl toward modernity had just begun. Bicycles lined the car-less streets and SSTers relied solely on the tedious process of snail mail.
For her service location, Kristina was assigned to teach English classes at the university. During this time she became especially close to one student in her class, Zhang Xiaowei, or Kathy, a spunky and out-going young woman. Every day Kathy and Kristina would meet after class to eat noodles or walk around the city. Despite their cultural differences the two formed a deep bond of friendship.
"We would talk about everything," Kathy said.
Soon, the three months were over and it was time for Kristina to return to the U.S. She gave Kathy her mail address with the hope that somehow they would stay in contact. The two said goodbye, then Kristina left.
"The last time I saw Kristina," said Kathy, "we were both on bicycles riding up a steep hill. She turned to look at me and said, 'I think I can—I think I can!'"
Years went by and Kathy and Kristina graduated from college. But across the world, Kathy always remembered Kristina. She tried to send her a letter, but it never worked. Life moved on. They both married doctors and had children. Kathy went on to become an English teacher, and Kristina an art therapist.
º
In 2010, 23 years after the two first met, Kristina and Kathy's lives crossed in nothing short of a miracle.
Kathy visited the U.S. for an English program located, of all places, on the campus of Eastern Mennonite University. Recognizing the college's Mennonite connection, Kathy instantly thought of Kristina. With EMU's assistance, she tracked down Kristina with only her first name and the year she was in China.
The next day, Kristina and my grandmother found themselves driving excitedly to Virginia to reunion with Kathy.
The three of them sat in Kathy's apartment for hours, talking and laughing as heavy snow fell outside the window. They reminisced on the past, sharing a picture of the two of them together as smiling young women in China. And they reminisced on the present, sharing pictures of their families, their two oldest children now the same age.
But just as time separated them years ago, it did so again. The very next day Kathy returned to China.
º
This is where my own life weaves into the story of Kristina and Kathy. I set out on my own journey to China through Goshen's SST program. This time the year was 2011, and honking vehicles had long replaced the role of the bicycle.
During the last weeks of study, I received an ecstatic email from Kristina. Before they had said goodbye a year ago, Kathy had given Kristina her address. And when Kristina reread it, it said Nanchong, the exact city I was located in.
My host mother, Lilian, was thrilled about the story and determined to help me find Kathy. When the two finally made contact, one more remarkable plot was revealed. A year earlier, Lilian had also been in the U.S. on EMU's campus for a scholar's program unrelated to Kathy's—and the two had briefly met. Little did they when they connected that one day Lilian would host the niece of the woman Kathy knew 24 years before!
When the three of us finally met at a restaurant later that week, we were stunned to silence as we comprehended who sat across from us and how our lives were connected. One small difference and the whole chain of events would've been altered forever. However, there we were. What had led us together?
For Kathy, the answer is God.
"I truly believe in God," said Kathy, "Because He is always on my side."
For Lilian, the answer is fate.
"This situation makes me believe in fate and hope," said Lilian. "We were destined to meet."
For me, perhaps it is a mix of both.
I now remember my own service students: wide-eyed and eager middle schoolers. Will life take a surprising twist one day and I will see them again? I also remember Lilian, who started as a host mother but ended as a dear friend. Will we keep in contact for the rest of our lives, like Kathy and Kristina, as we promised one another?
I then think of the magic of Kristina and Kathy's story and know the answers aren't guaranteed, but I should at least save some room for the impossible to happen.
Since Becca wrote a version of this story in 2011, some impossible did happen. Lilian and her son, Thomas, moved to Maryland for a year-long research program at the University of Maryland, a short distance from where Becca now lives in Washington, D.C. The three were able to connect and catch up, years since they were in China together.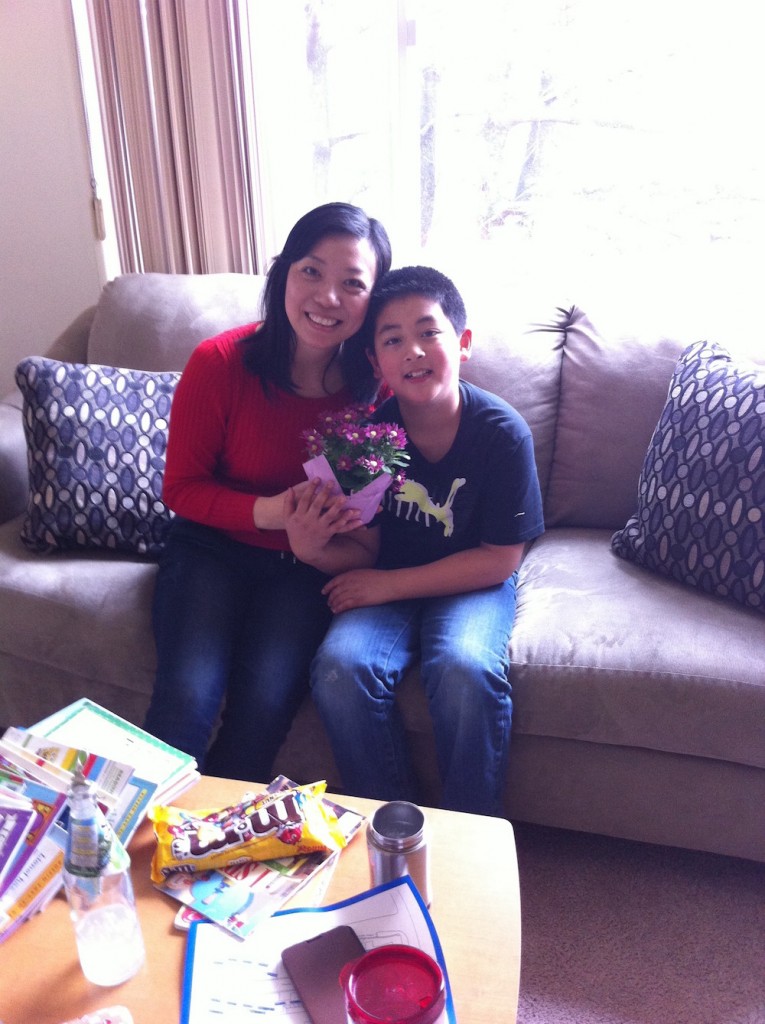 An earlier version of this story appeared in Goshen College's The Record. 
---
Rebecca Kraybill graduated from Goshen College in 2013 with a degree in English Writing. She lives in Washington, D.C., where she writes for a non-profit in the public health sector. She is on the continuous search for spicy noodles to rival the astounding ones she ate in China, but the bar is high.